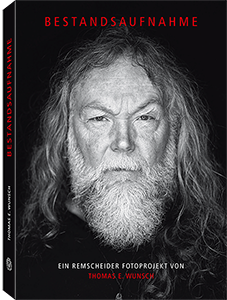 Bestandsaufnahme
Ein Remscheider Fotoprojekt
Das Fotoprojekt des Remscheider Fotografen Thomas E. Wunsch wird zur Bestandsaufnahme. 378 Remscheider/Innen – ungeschminkt, echt!
Das Ziel: Ein besonderer Bildband über Remscheid und die Remscheider Bürger/Innen, der nicht nur die schönen Ecken beleuchtet, eben ungeschminkt.
Der Weg: Thomas E. Wunsch hat sich für eine reine Schwarz-Weiß-Umsetzung entschieden. Er veranstaltet Foto-Shootings in Remscheid und fotografiert die Menschen so wie sie sind. Immer dieselbe Kameraeinstellung, immer dasselbe Licht; eine große Ringleuchte, die ein spezielles Leuchten in die Augen zaubert.
Der Künstler sagt selbst: "Ich musste erst einmal mein Auge für die wundervolle Tristesse der Remscheider Hinterhöfe schärfen. Eben jene Hinterhöfe, die wir nicht mehr wahrnehmen, da wir achtlos Tag für Tag an ihnen vorbei gehen… Mit der Zeit rückte dann der Remscheider Bürger immer mehr in meinen Fokus. Dieser ist es schließlich, der diese Stadt ausmacht!"
Aus dieser "Bestandsaufnahme" – sowohl der Orte, als auch der Menschen –, ist ein wunderbares und künstlerisch anspruchsvolles Zusammenspiel entstanden, das seinesgleichen sucht! Mit viel Liebe zum Detail und großer Perfektion hat Thomas Wunsch seine s/w Portraits inszeniert und in Zusammenarbeit mit dem Bergischen Verlag, einen spannenden neuartigen Bildband geschaffen.
---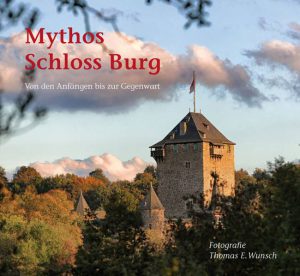 Mythos Schloss Burg
Fotos von Thomas E. Wunsch
Willkommen auf einer spannenden Zeitreise durch die Geschichte von Schloss Burg. Als persönlicher Zeitreiseleiter führt Sie unser Pilger, der Wandermönch Ignatius, durch die Jahrhunderte, in denen die Grafen von Berg hier lebten und liebten, kämpften und herrschten. Der vorliegende Bildband
rollt die Familiengeschichte des Hauses Berg anschaulich auf – angefangen 1101 bei Graf Adolf I. über den Bau mder Burg bis zur Ermordung von Engelbert II. am 7. November 1225. Damit erlosch die männliche Linie des Hauses Berg, und Schloss Burg ging in den Besitz des Hauses Limburg über. Vereinzelt beleuchtet der Bildband spätere bedeutende Ereignisse wie die entscheidende Schlacht von Worringen 1288 oder die Kinderverlobung 1496. Während sich die Texte historisch fundiert den Fakten widmen und der Leser durch die Erzählungen des Wandermönchs Ignatius das Gefühl hat, hautnah dabei zu sein, zeigen die Fotos in aller Ausführlichkeit bekannte wie unbekannte Seiten von Schloss Burg.
Als ehemaliger Burg-Fotograf hatte Thomas E. Wunsch Zugang zu allen Bereichen und führt den Betrachter so auch an Orte, die der Öffentlichkeit sonst verschlossen sind. Beeindruckende Innen- und Außenansichten, faszinierende Detailaufnahmen sowie aufwendig nachgestellte historische Szenen fügen sich zu einem einzigartigen Bild von Schloss Burg. Lassen Sie sich von dem Pilger in die Geschichte der Grafen von Berg hineinziehen und lernen Sie Schloss Burg neu kennen!
---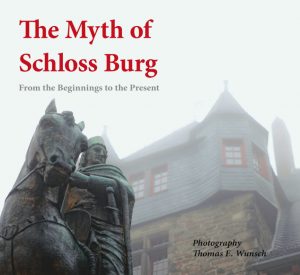 The Myth of Schloss Burg
From the Beginnings to the Present
In 1133 Count Adolf II of Berg laid the foundations of Schloss Burg (Burg Castle). mSince the aristocratic Berg dynasty moved from the river Dhuenn to the river Wupper, people have been constantly following the eventful history of the Counts of Berg up to the present day. Schloss Burg is next to Altenberg Cathedral the typical landmark of the Country of Berg (Bergisches Land), which over the centuries has attracted a lot of people beyond its old boundaries. The Castle Reconstruction Foundation with its many members is working hard to lead Schloss Burg into an attractive future, constantly focussing on the direct conveyance of history on site, because Schloss Burg is dear to our hearts. This is the perfect time to find new aspects of Schloss Burg hardly known before. The photographer Thomas E. Wunsch has now presented his very own view of the castle. Through expressive images including many contemporary scenes, he brings us closer to the life of Schloss Burg that we have not known before. During his stay in Schloss Burg he encountered the wandering monk Ignatius – an ideal companion through the history of Schloss Burg and of the Counts of Berg. The myth of Schloss Burg is vibrant and very much alive!
---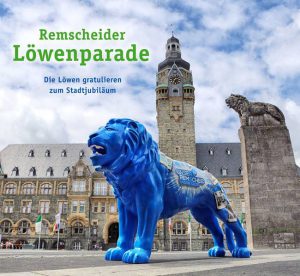 Remscheider Löwenparade
Fotos von Thomas E. Wunsch
Nicht mehr erhältlich – Ausverkauft
Die Großstadt Remscheid feierte ihre 85. Geburtstag. Die Hauptrolle dabei spielte der Bergische Löwe, das Wappentier der Stadt. Über 150 Löwenbändiger haben mitgemacht und einen oder gleich mehrere Löwen zum Teil sehr aufwändig und durchweg sehr kreativ gestaltet, um die Großkatzen Ende August 2014 über die Alleestraße zu schicken. Damit aber jede/r Remscheider/in noch länger was von den Löwen hat – und auch erfährt, was dahinter steckt – hat der Bergische Verlag begleitend zur Löwenparade ein 168 Seiten starkes, durchgehend farbig gestaltetes Buch herausgebracht, das sich den Löwen in ihrer Vielfalt widmet. Fotos zeigen die Löwen von ihren schönsten Seiten, textlich werden die passenden Geschichten und Hintergründe dazu erzählt. Es lohnt sich also in dem Buch auf die Pirsch zu gehen und vielleicht sogar die eine oder andere Neuentdeckung zu machen.
Das Löwenbuch war schnell vergriffen und ist nur noch als E-Book erhältlich. Das E-Book ist am besten für Tablet-PCs geeignet da alle Löwen in Farbe erstrahlen!
---
Buchtitelfotos
Bergischer Verlag
---